Harry's Place, Gracetown Property Details
Come and stay in this comfortable and yet iconic Gracetown beach house in the Huzza's and Main Beach precinct.
This 4 bedroom, 2 bathroom home accommodates up to 6 guests in both a main house and a newly renovated annex. A 4th bedroom in the main house can be opened by request.
Known by all as "Harry's Place", this original Gracetown beach shack had been a refuge for surfers and travellers to the Bay for many decades. Whilst it has been tastefully refreshed by the current owners, the home's immaculate condition has allowed most of the original features of the home remain to this day, making this home unlike any other you can stay in - an *experience* in itself that salutes the 60s and 70s surfing culture of the home's heyday.
The refreshed kitchen has all the essentials and more, including a Sodastream, and is complemented by a new Weber BBQ on the newly renovated decking area. Entertaining and dining options include the inside dining area that seats up to 6 people, the outdoor decking and seating area for long lunches or balmy nights, or the park bench table and chairs, set under the peppermint trees in the reticulated and well-maintained garden area.
You'll truly step back in time in the lounge room, which includes a TV and plenty of games for the family to enjoy. The retro styling is seriously impressive here, curated to a tee with funky artwork by local artists adorning the walls and yet with plenty of space for the whole family to lounge, relax and reconnect together after a day of adventure.
Imagine returning to the home after a full day of beaching, and then lazing all afternoon in the hammock set amongst the cool of the peppermint trees. BBQ on the renovated decking for dinner, then challenge your family to a game of Monopoly or scrabble. Finally, drift off to sleep with a smile on your face knowing you're one of the lucky people who have experienced Harry's hospitality, and created unforgettable memories at this fantastic home.

All of this situated in the heart of the action of Gracetown, less than a 1 minute walk to the local coffee shop, 2 minutes to the swimming beaches and world class surfing beaches.

History of the Home:
Formally owned by Harry, a legendary local known for his hospitality, he relocated the home from its former location on Percy Street and made it one of the first holiday homes in the Bay. Harry's Place was an oasis for surfers and travellers to the Bay for many decades, and is still considered by many as the most iconic original holiday home in the Bay due to prominent position at the entrance of Gracetown.
Harry's legacy continues to this day, with many of the same families and friends returning time and time again to stay and experience this incredible home.
Shire license: P222218
We think you'll love
Staying in one of the Margaret River region's most iconic original beach shacks
The tastefully furnished accommodation oozing retro vibes
Enjoying the beautiful and well maintained garden area
Notes
This house is for family holidays only (as are all of our holiday homes), and is not a venue for functions, party house or to be used for social gatherings.
Seaside Homes does not accept bookings from Leavers or associated groups.

Location
14 Bayview Drive, Gracetown
Situated between Yallingup and Margaret River. Less than 3 hours drive from Perth, 15 minutes from Margaret River.
Attractions
Gracetown is a quiet seaside town, just a hop skip away from worlds finest wineries. Boasting world class beaches, walking trails, tennis, and with safe swimming beaches within walking distance, fishing, boating, wineries, breweries, chocolate factories, fresh produce markets, animal farm, horse riding, olive oil farm, hiking cape to cape, snorkelling.
It is your base to explore with the whole family. Gracetown has a local store, cafe and a bottle shop.
Property Features
4 Bedrooms

BBQ

Fireplace

Linen Included

Parking

Single Story Accommodation

Washing Machine

Waterfront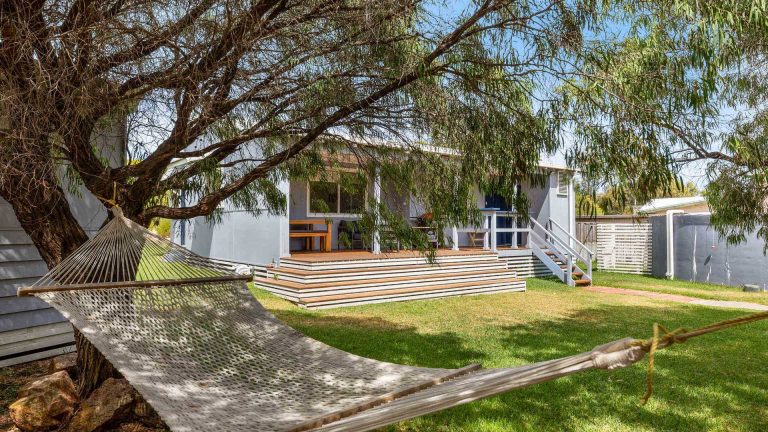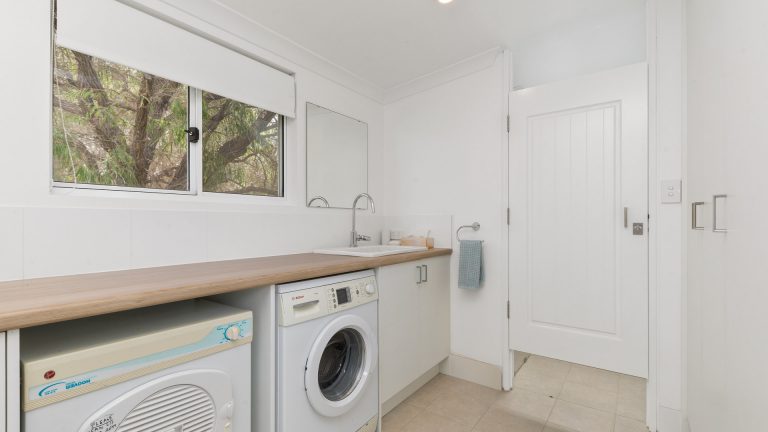 Bedroom Configuration
4 bedrooms
Main residence:
• Bedroom 1: 1 x Queen
• Bedroom 2: 2 x King Single
• Bedroom 4 (by request only): 1 x Single

Bunkhouse:
• Bedroom 3: 1 x Queen, 2 x Single
Bathroom Configuration
2 bathrooms
Bathroom 1 (Main house): Shower, basin and vanity, with separate toilet
Bathroom 2 (Bunk house): Shower, basin, vanity and toilet.